What is an "Escape Room?"
An escape room is a real-life game experience where participants are temporarily "locked" in a room and must use the elements of the room, the group's collective knowledge and wits to discover clues, solve puzzles, accomplish tasks and escape before time runs out. Escape the Movies features various Escape Room experiences, each with its own theme, clues, puzzles and challenges and a little something for everyone.
Are the escape room experiences scary?
An escape room is not a haunted house … so don't expect it to frighten you too much or to have people jumping out to scare you. While the scariest element of our escape rooms is the battle against the clock, one of our room experiences – The Junkyard – has some scary elements but there are other rooms you can try and we do encourage families and kids to participate.
Are there age restrictions for the escape rooms? Can I bring my kids?
Due to the nature of the games and challenges in our escape rooms, we recommend a minimum participating age of 7 years old. Also, kids 7-17 must be accompanied by an adult within the room.
How difficult are the escape rooms?
Within each room and game there are various puzzles and clues to solve – each will vary in difficulty based on the collective strengths and weaknesses of the persons participating. Each room and game has a theme and design appropriate for most ages and aims to accommodate a wide spectrum of skill levels and interests through group participation.
Will I really be locked in a room? What if I really need to get out?
Due to safety precautions, while you may not be able to open the door to exit a room, you will never really be locked in a room. We will be in constant contact with everyone in the room and aware of everything happening inside via video and audio monitoring. In the event of any emergency inside or outside an escape room, there will be a "release button" near the exit door that you or any member of your team may press (but only in case of an emergency). Hitting this button will unlock the exit door so that you will have immediate access out of the room and our customer service representatives will ensure your safety and comfort.
How long does the whole escape room experience take?
Once the game begins, your group will have anywhere from 30-45 minutes to escape … depending on which room experience you choose. There is also a short briefing for each group prior to the start of the game where the rules are explained. In most cases, the entire experience from arrival to departure usually takes anywhere from 45-60 minutes.
Can I reserve a particular time to play an escape room?
YES. You can book any of our room experiences via our reservations page. Please note that available times for rooms are based on a prefixed schedule and availability is on a first come, first served basis.
Do I need a reservation to play and escape room?
Ideally, YES. We encourage you to book online ahead of time so as to secure an available spot due to the current demand of the various rooms.
What if I am late to arrive for my escape room reservation?
It is best to contact us via phone (775-7954) to let us know in advance that you will be late for your escape room reservation. Depending on the schedule for the day, your reservation will be held as long as possible, but your game time may be curtailed to not affect other reservations. Also, if you miss your reservation time on the day, you can check with our onsite customer service representatives who will be happy to accommodate your group and find another suitable time slot based on availability.
How long before my scheduled time for an escape room booking should I arrive?
We ask that all members of a reservation arrive at least 15 minutes prior to your scheduled booking time in order to fill-out paperwork and listen to our tips and safety briefing.
What if I need to reschedule my escape room reservation?
If you need to reschedule, you should contact us at least 3 days (72 hours) before your reservation. If you contact us after this period, or if your booking was created within this period, we may not be able to reschedule your booking to best meet you needs … but we will make every effort to accommodate you and your group's new day and time. Please be aware of this before booking your reservation with us.
Do I need to pay in advance for my escape room reservation?
We advise all customers to secure their booking with us by paying in advance … however it is not mandatory at this time. If you would like to pay in advance for your escape room booking, you can do so via our online payment system using a credit card or visit us prior to your reservation date and pay via cash, credit card or Linx. If you choose to not pay in advance, you must pay upon arrival for your reservation.
What if I would like to cancel my reservation?
If you need to cancel or reschedule your reservation, you can do so online using the option included in the confirmation email you received from us. Alternatively, you can contact us via phone (775-7954) or email (info@escapethemovies.com) with your reservation details (including reservation number) and we can cancel or reschedule your reservation accordingly.
If you made an advance payment on your reservation and need to cancel, please contact us via phone (775- 7954) or email (info@escapethemovies.com) with your reservation details (including reservation number) and payment details and we will aim to refund you as quickly as possible.
Will other people be in the escape room?
The average group size for our experiences ranged from 4-8 persons depending on which room you choose. If your group is not that large or you are by yourself, there's a strong chance that others will join in with you to make up a team. But that's okay, the potential of meeting and playing with new people is great. The more the merrier! If your group is large, you can divide into smaller teams. This way, you can compete among each other for ultimate bragging rights.
I want to experience an escape room with my friends only. What should I do?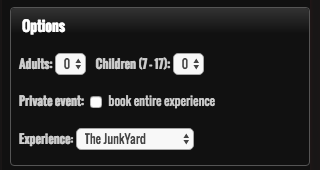 If your group is small (i.e. you have fewer persons than the capacity of the room you choose persons) and you want to only play the game with those in your group and no one else, you must purchase any remaining tickets for the room when booking and before the start of a game. To do so, you can select "Private Event" on our booking page. Please note that if your group does not purchase all of the tickets for a reservation time slot, any extra spots may be given to others in wait to make up a full team. This means you may be paired with additional players.
What if my group is larger than the maximum occupancy of an escape room?
In this case, management may make rare exceptions. It is best to contact us via phone (775-7954) before making your reservation and let us know the details of your group's size. We will endeavour to best accommodate your group keeping in mind that the games and the rooms were designed according to a set capacity for safety and enjoyment reasons.
Are there any medical conditions under which I should not participate in an escape room?
While most of our escape rooms attempt to cater for everyone, there are certain pre-existing medical conditions which we advise be considered before participating. Persons with any of the following conditions or others can contact or visit us prior to participation to inquire on possible risks:
• Chronic physical injuries or ailments (e.g. neck, back or leg injuries or ailments, asthma, etc.)
• Acute ailments or sensitivities to noise, light, smoke, small spaces or other triggers
• Pregnancy
Please note that participation is completely up to you. Since there are elements in our escape rooms that may startle you, or require some physical exertion, or expose you to certain sensitivities, we would recommend that you consider all the factors and use your best discretion. In every case, however, during your visit, we will ensure your care and safety to the best of our ability and ensure that everyone has a great and safe time.
Are the escape rooms accessible to persons with disabilities (e.g wheelchairs)?
The current location of Escape The Movies and its escape rooms in Port of Spain resides on the 2nd floor with only staircase access. Persons who are unable to comfortably traverse stairs should consider such before participating. Additionally, only the Tick-Tock escape room is suited for persons in wheelchairs.
How does the escape room leaderboard work?
If you and your team are able to escape from one of our rooms in record time and without using any hints, you may qualify for our leaderboard which will display the five best times by team for each of our rooms. Teams which qualify for the leaderboard will have ultimate bragging rights and are eligible for some cool prizes.
What are the opening hours for Escape The Movies?
For regular bookings and reservations:
Fridays: 4:00 p.m. – 11:00 p.m.
Saturdays: 2:00 p.m. – 10:00 p.m.
Sundays: 11:00 a.m. – 7:00 p.m.
We are also open on some public holidays. For an up-to-date listing of our opening days for regular bookings, please check our reservation page for available days and reservation times.
For private bookings and reservations, please contact us.
Is there parking available at Escape The Movies?
YES. During regular opening hours, there is designated parking directly in front of our business. Additional nearby street parking can also be readily found.
Do you offer private bookings for escape rooms?
YES. Escape The Movies offers and caters for private bookings available on any day which can include corporate retreats and team activities, birthday parties, social outings, etc. We can design a bespoke package that exclusively accommodates your group's size, budget and needs and offer any or all of our in-house experiences and facilities upon request. For more information, please visit our page on private bookings.
Do you offer team building exercises for company outings?
YES. We do offer Team Building services, and we've had some significant corporations come and benefit from the experience. Not only will it be unparalleled with respects to adrenaline pumping fun, it is also a valuable experience for camaraderie with coworkers, and an insightful observation of your team's strengths. For more information, please visit our page on corporate bookings.
Do you offer any specials or discounts on escape rooms?
YES. Escape The Movies will offer various specials and discounts on our escape room experiences throughout the year and we encourage individuals and groups to take advantage of these offers when available. For a listing of our current offers, please visit our specials page.
Do you offer gift certificates for escape rooms?
YES. Whether you would like to purchase directly at our location or buy online, Escape The Movies has a range of available gift certificates to suit your needs. Please note that all gift certificates are valid for six (6) months from date of purchase. For more information, please visit our page on gift certificates.
Do you have a mailing list for updates?
YES. Subscribe to our mailing list for updates and information on our escape rooms and other experiences, as well as, special offers and discounts. Please visit our page on subscribing to the Escape the Movies mailing list.